Should you have your business cards professionally printed or design and print them yourself? Like most business decisions, there are advantages and disadvantages to the DIY method. So, let's take a look at the pros and cons of printing your own business cards.
Pros of DIY Business Cards
Tech Savvy
With the ever-improving digital technology, finding software, pre-printed, perforated business card templates, and printers is simple and quick. In fact, you probably already have a computer and printer or even a network of computers and printers from which to choose. Given those facts, will adding one more print job to your queue really make that much difference?
Time and Cost Effective
If you are only running a small quantity of cards, you can probably save time and money by doing the job yourself. However, if you need to run thousands of business cards, you will probably want to do a cost analysis to see if outsourcing the work is the better economic choice for your business.
Isn't It Easier?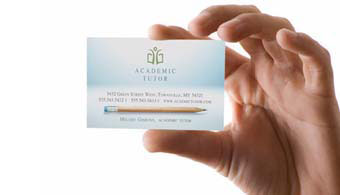 Making your own business cards is easy; just follow the manufacturer's instructions on the package. Most template packages have preset options to help you design a logo or add graphics, insert custom text, and add borders or backgrounds. Once you have the design elements set up, save your work and then simply load the pre-printed sheets into your printer and follow the manufacturer's instructions for printing.
After the cards are printed, you fold, score and tear the cards, and your business cards are ready for your marketing campaigns. When you run low on cards, you simply reprint them as necessary, making any changes that may be required.
Cons of DIY Business Cards
Labor Intensive
While setting up a business card design is simple if you have some computer literacy, if you are a small business owner or a single proprietor, the time and effort involved in printing your own business cards may not be the best use of your time and talents. Signing up new clients and increasing sales should be job one for you, so you may want to outsource the job to a professional. In addition, maybe you're looking for business cards that are printed in an eco-friendly way, which is something you probably can't do on your own
Quality Issues
Is the quality of your laser or jet printer comparable to that of a commercial printer? How about the cardstock options in pre-printed or templated business cards – will they convey the type of image you want for your brand or product?
When you hire a professional to print your business cards, you are paying for that person's expertise and knowledge. Just as you wouldn't try to operate on yourself if you needed surgery, you might want to think twice before deciding to print your own business cards.
Cost Considerations
If you are a smart shopper, you can find lots of promotions and deals to help you save money on business cards and other business printing needs. Most companies offer volume discounts on bulk orders, and some even offer specials such as buying 500 cards and getting 250 cards free. While there are no free lunches in life, with a little bit of research, you might discover that buying business cards is less expensive than printing your own.
Instead of going the DIY route when it comes to business cards, let our sister store, Metropolitan Digital help you create a stunning, memorable business card. We hope you'll like us on Facebook and invite you to connect with us on LinkedIn!
Image credit: FreeDigitalPhotos.net/AppleEyeStudios